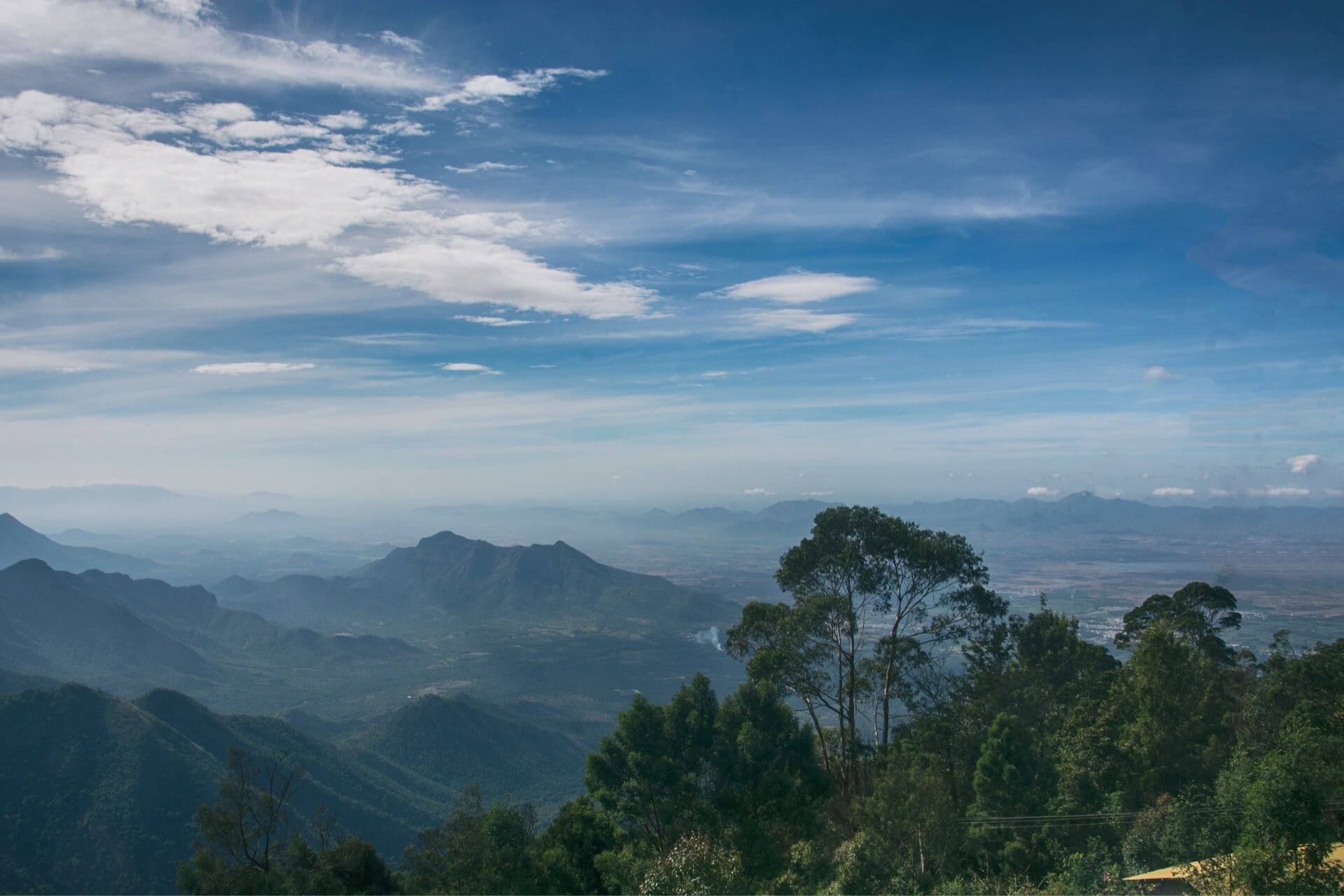 (courtesy: prasantakrdutta)
A paradise on Earth, Kodaikanal is one of the popular tourist destinations in India promising a memorable vacation to each and every one. Often called as "Princess of Hill stations", it greets you with a refreshing and soothing environment, mesmerising scenic beauty, exciting activities and a luxurious stay with all kinds of modern comfort and facilities. There are many interesting sightseeing places to visit in Kodaikanal.
With natural forms varying from rocks to trekking routes, from temples to museums and caves, from waterfalls to parks and lakes, the hill station of Kodaikanal presents amazing holidaying options catering to tourists coming from all over the world.
Located in the southern crest of the Palani hills under the administrative control of Dindigul district of Tamil Nadu, the hill station of Kodaikanal is at a distance of about 120 km from Madurai and is at an altitude of 2100 metres. "The Gift of the Forest", Kodaikanal offers everyone with a complete tour package with a wide range of activities to do while holidaying.
Some of the prominent places to visit in Kodaikanal are:
Lakes in Kodaikanal
One of the best hill stations that the country has, Kodaikanal has bagged the honour with the help of its hustling lake waters and their serenity around. The hill station presents not just one or two but many lakes in and around, ensuring a relaxing holidaying for everyone.

This lake has an exceptional role to play not just in the beauty of the land but also its name. It is Kodai Lake from which the name of Kodaikanal has been derived and thus making it one of the most crucial places to have at least one visit of yours.
Built in 1983 by Sir Vere Henry Levinge, a former District Collector of Madurai, it is 500 metres (1,600 ft) and is spread out in a star shape over 60 acres along with being surrounded by fine tarred road of 5 Kms length. Boating on the lake along with pony rides around the lake are enjoyable and relaxing.

This 3 km long lake is 21 km away from Kodaikanal. If you are looking for some relaxed time or a picnic, this is one of the best places in Kodaikanal not to miss. Surrounded by pine forest, this lake makes for an amazing picnic spot.
A simple walk here can also be immensely relaxing. However, boating at this lake is prohibited as this lake also provides drinking water to the nearby area. To visit this lake, a tourist requires a permit which can be availed by approaching the forest department one day in advance.
(courtesy: suresh31589)
Another lake that one can visit when on their Kodaikanal tour is the Mannavanur Lake, situated about 34 km away from the hill station. An ideal place for a picnic with your loved ones or even for spending some time alone, this lake can be reached within one and half hours to two hours from Kodaikanal.
Roads surrounded with eucalyptus and pine trees make the drive to this lake as enthralling as the destination. Coracle rides are also offered at this lake by the forest department for a minimal fee. Other activities like horse riding, walking are also popular here.
Viewpoints in Kodaikanal
A hill station cannot be called so without its viewpoints, the places from where tourists or even residents get a glimpse of its actual beauty. There are many viewpoints in Kodaikanal offering the nature lovers the opportunity to explore the impressive extent of its scenic charm.

Built by Lt Coaker in 1872, Coaker's Walk is a constructed walking plaza that cannot be missed when you are holidaying in Kodaikanal. A popular tourist spot, it is around half a kilometre from Kodaikanal Lake.
People are often seen taking morning or evening walks here. It opens at 7 in the morning and closes at 7 in the evening. The surrounding lush greenery and a refreshing atmosphere makes the walks even more enriching.

It is located about eight km from the lake, and presents you with a breath-taking view of the chasm that is 6,600 metres (21,700 ft) deep. It is a flat projecting rock that is quite secluded and undisturbed. It can be reached through a rocky trail that begins soon after the Pamban Bridge.
Famous especially among adventure lovers, the climb up to the Dolphin's Nose is steep and a bit difficult. If interested, one can trek up to the end of the Dolphin's nose and reach at Echo Point. Located on Upper Shola Rd, it is open from 6 AM to 5.30 PM.
(courtesy: suresh31589)
Moir Point is named after Sir Thomas Moir, a European engineer who laid the foundation for the construction of the Goschen road (also known as Forty Mile Road) in 1929. Offering a captivating view of the verdure hills, spread all across the hill station, Moir Point is a must visit.
Located only 3 km away from Pillar rocks, another popular tourist attraction in Kodaikanal, Moir Point is around 10 km away from the town's bus stand. Another sightseeing place nearby is the Berijam Lake.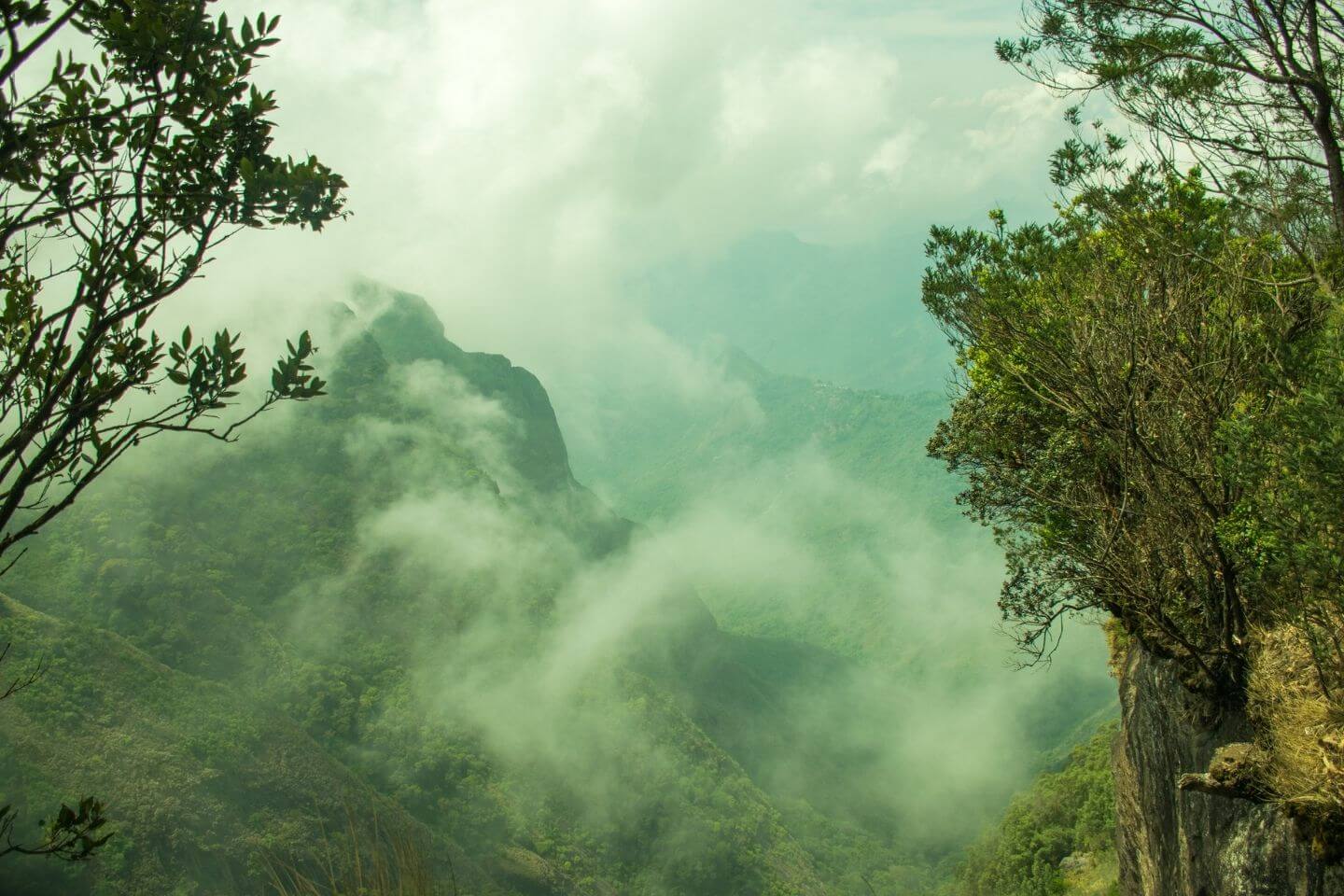 (courtesy: sivaramakrishnannageswaran)
Located on the Berijam road, Silent valley View Point is one of the best viewpoints of Kodaikanal. With enriching greenery everywhere, what makes this viewpoint special is the sight of clouds intersecting with the mountains. Once reaching here, it is impossible to not feel at the top of the world with a picturesque view at your disposal.

Presenting an incomparable view of the Vaigai Dam and the rich foliage around, Green Valley View is definitely a place one must visit while enjoying their time on Kodaikanal tour. Also known as Suicide Point, this place got its aberrant name owing to the depth and density of the valley which makes it dangerous as well.
Situated about 5.5 km from the Kodaikanal Lake, it can be visited between 10 to 3 in the evening. The fog that starts to accumulate as the day progresses makes it difficult to get a view in late evenings.

It is located at Coaker's Walk, constructed by Lt.Coaker in 1872 and is a 1-kilometre paved pedestrian path that runs along slopes on the southern side of Kodai. Telescope house offers tourists the opportunity to have a breathtaking view of the valley and other nearby towns.

It is the second highest peak and has a height of 2466m. You can reach the place by taking a right turn on Berijam road along with a steep climb. You are offered a splendid view of Berijam lake, Vandaravu range, Mannavanur sheep farm, Poombarai valley and many other places from top. The hike for the Vedambi Peak begins from Kodaikanal TV Tower.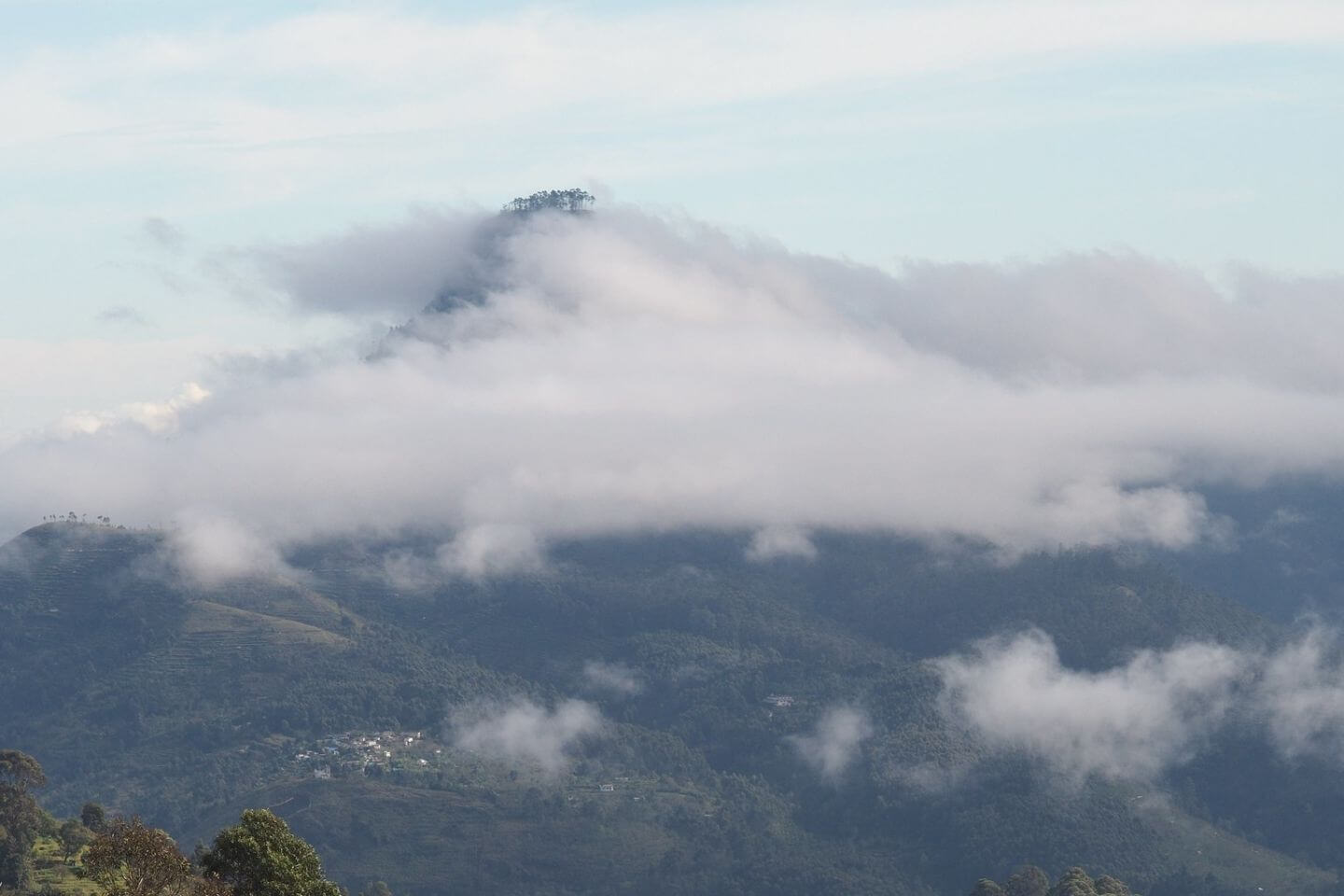 (courtesy: neumeyer)
Nestled in the Western Ghat, Perumal Peak is around 11 km away from Kodaikanal. This peak, with an interesting anecdote and awe-inspiring scenic beauty is the one of the highest mountain ranges in Western Ghats. It is believed by the local residents that this peak used to be an active volcano and has been dormant for more than thousand years.
View of the Nilgiri Hills and the Western Ghats along with an adventurous trekking trail make this peak a popular tourist attraction. There is also the facility of overnight camping here.

Located 8 Km away from the lake, Pillar rocks consist of three granite boulders and each of a height of 400 feet standing shoulder to shoulder. It also makes for an interesting picnic spot. The chamber between the two pillars is called Devil's kitchen.
Pillar Rocks is a great place for relaxing and enjoying the freshness of a hill station. It opens at 9 AM and closes at 4 PM. There is a small garden which adds to the charm of these rocks.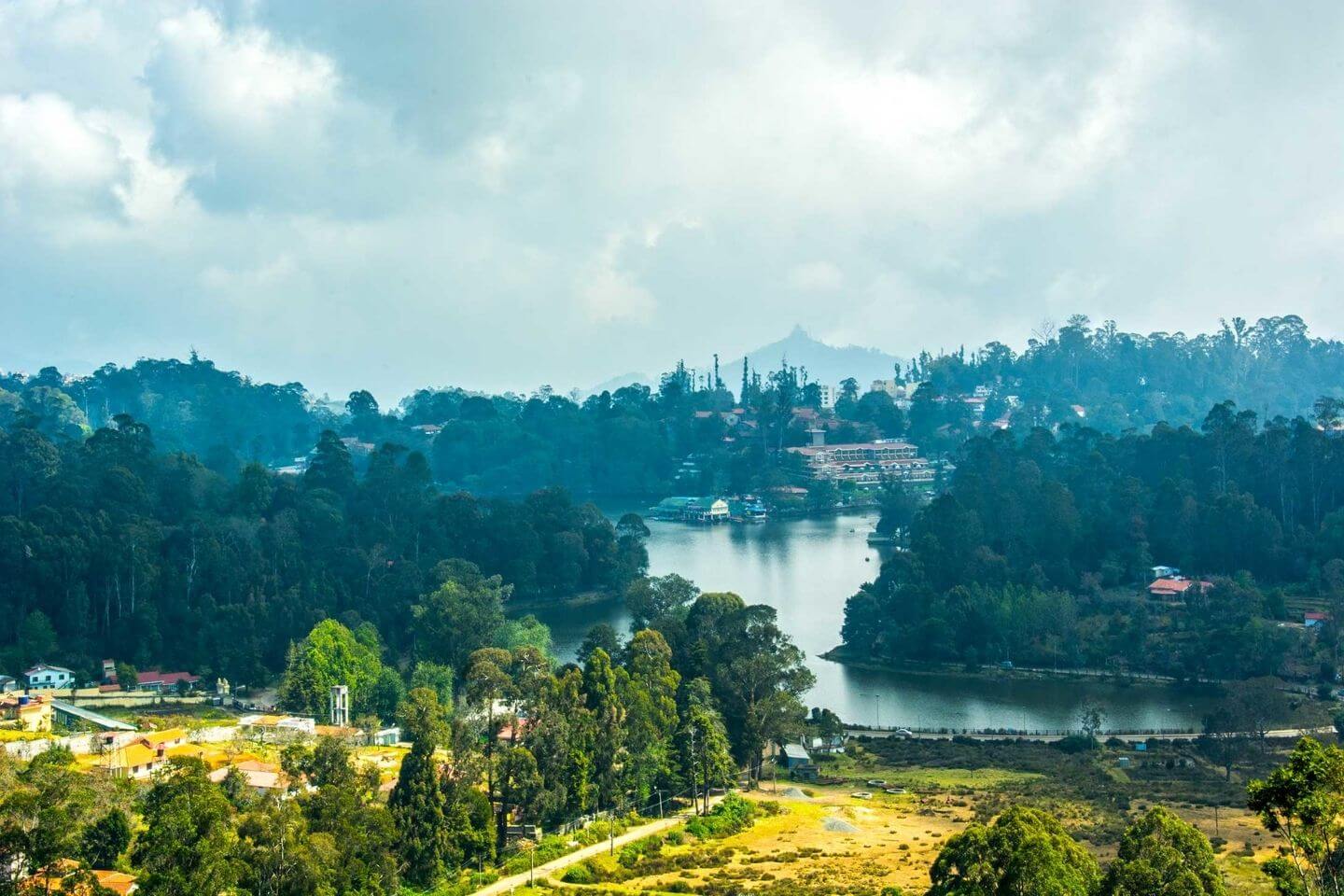 (courtesy: sungold79)
Located near Coaker's Walk, at a distance of 3.2 km, Upper Lake View is the place you can visit to get a memorable view of not just the hill station but also of the lake. Once here, you can watch the star shaped lake from above, and fall in love with its unparalleled beauty. The lushness around and the sparkling water amidst it make the view exceptional.
Waterfalls in Kodaikanal
Visiting a hill station and not exploring its waterfalls can be the biggest parameter of an incomplete holiday. Kodaikanal boasts of a few mesmerising waterfalls that can dazzle every visitor. Waterfalls in and around Kodaikanal also tickle your adventurous bone with their exciting trekking routes.

Located only 2 km away from the famous Kodaikanal Lake, Bear Shola Falls offer a stunning view of streams of water rustling down the lush mountains. It received its name from the belief that bearshttps://kodaikanaltourism.co.in/images/headers/bear-shola-falls-kodaikanal-timings-entry-fee-kodaikanal-tourism-header.jpg often come here to drink water. Presently you will encounter a lot of monkeys while on your way to the falls. The sight of this waterfall is especially enchanting after the monsoon season.

Thalaiyar Falls is the highest waterfall in Tamil Nadu and the sixth highest waterfall of India. Water cascades down to the bottom from a height of 975 feet, and despite the thin strips, the waterfalls can be clearly viewed with naked eyes even from a distance. Also known as Rat Tail Falls, it is located at a distance of 40 km from Kodaikanal.

Located in Pambar Village, which is about 4 km away from the hill station, Pambar Falls is one of the most beautiful waterfalls that you will come across on your Kodaikanal tour. Also known as Grand Cascade, Pambar Waterfalls descend on a twisty rock formation and at the end forms a water body.
Ideal to take a quick dip in its refreshing water with nature all around, this fall is a must visit in Kodaikanal. One can visit these waterfalls from 10 in the morning till 6 in the evening.

Falling from a height of 180 feet while creating a sight to behold, Silver Cascade Falls is aptly named so. It gets its water from the Kodai Lake. The excess water of the lake falls from a steep rock and eventually forms a water pool. This can be seen from the Ghat Road and is easily accessible.
Various small stalls selling chocolates and snacks and toys can be found near these waterfalls. However, beware of the monkeys that can be seen sitting and playing all around the area. It is located at a distance of 8 km further on the Kodai-Madurai Road. Hence, people can visit this waterfall while on their way to Madurai as well.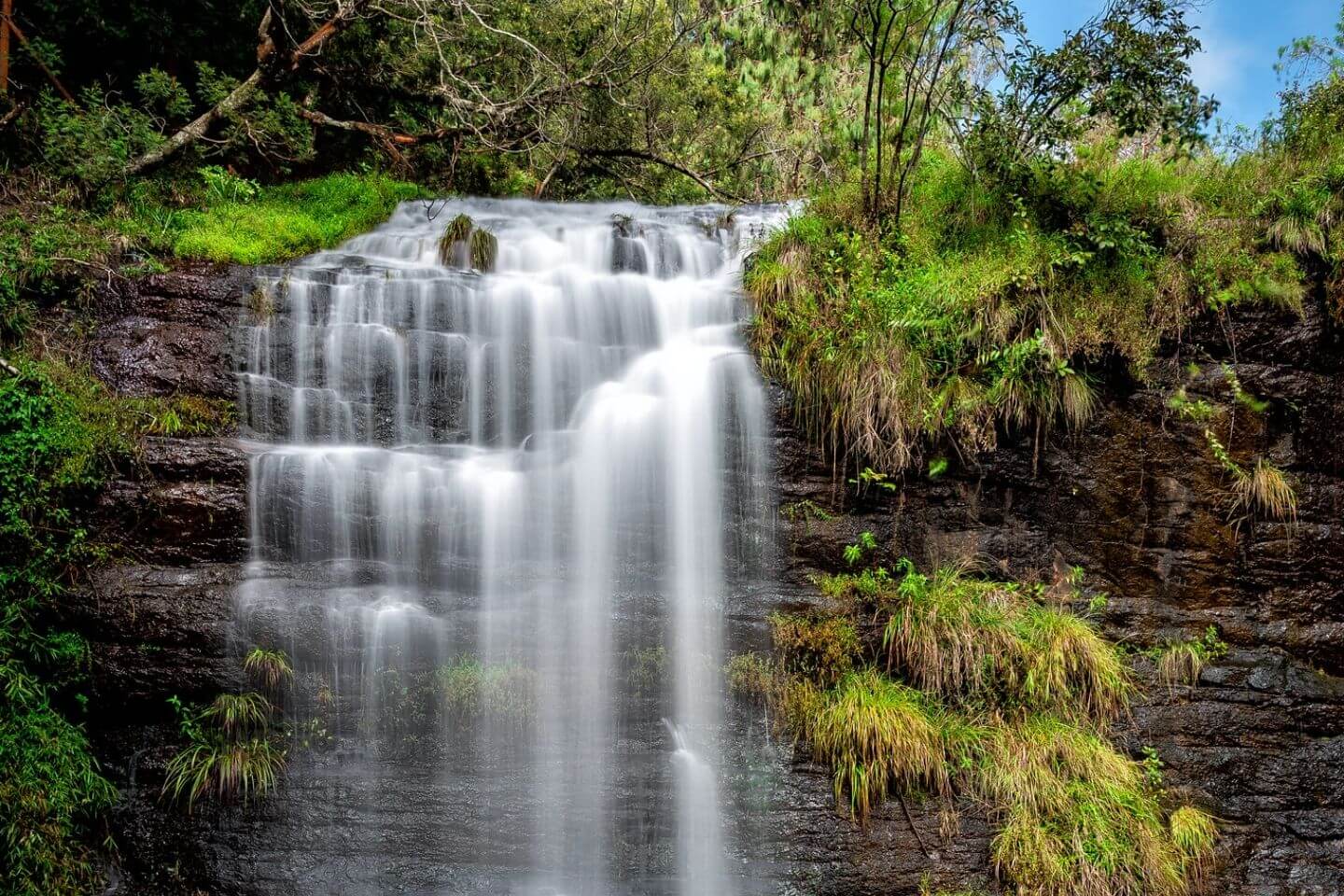 (courtesy: swaminathanm)
Fairy Falls, as the name suggests, has an overabundance of exceptional beauty. Located in the Pambarpuram area, it is the major source of the Pambar River. Falling from the top of a mountain range, this falls creates an impressive view.
Visitors can also spend some time swimming in the pool created by the waterfall. It is ideal for a relaxing picnic with families and groups of friends. It is about 6 km from the Kodaikanal bus stand and can be visited from 9 AM to 6 PM. It can be easily reached as it is connected to the road.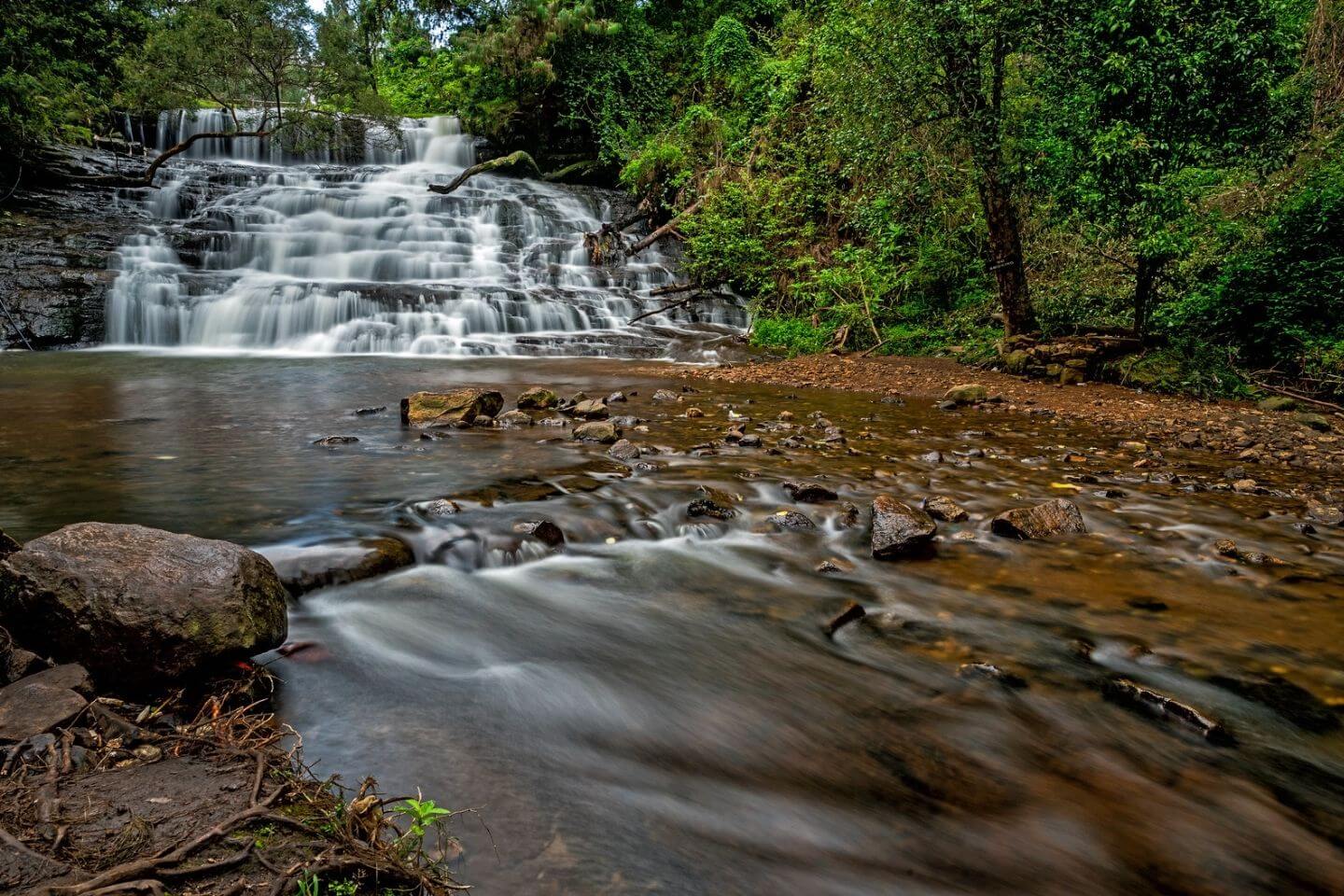 (courtesy: swaminathanm)
Situated at a distance of 3 km from the Kodaikanal town, Vattakanal Falls not only offers a view worth admiring but also presents an adrenaline-inducing trekking route. For those who are looking for a more relaxed way, they can reach either by a taxi or bus.
The water pool created at the bottom of the fall is ideal to step in and enjoy the refreshing water. With rich flora around, the waterfalls offer an apt place for tourists to unwind, as well as click some memorable pictures.
Parks and Caves in Kodaikanal
There are multiple sightseeing places in Kodaikanal which keep tourists busy through the duration of their Kodaikanal holiday. However, if one wants to take a break from exploring and spend a few quiet moments amid nature then visiting one of these parks and caves will serve the need as well as offer some thrilling trekking experience too.

Almost everyone who visits Kodaikanal spends some time at Bryant Park. A botanical garden, it enjoys a close proximity with Kodai Lake. With beautifully laid out lawns and ample space for sitting and relaxing, it is indeed a must visit of a Kodaikanal tour.
Named after Glen Bryant, who was behind the conceptualisation of this park, it houses more than 325 species of trees, plants and shrubs. The major attraction here is the Eucalyptus tree which is around 160 years old and a religious Bodhi tree. Every year an annual horticulture show is also organised which draws attention from nature lovers around the world. It is located on the Lower Shola Rd and is open from 9 AM to 6 PM.

Manicured lawns, and an extensive range of flowering plants greet visitors at the Chettiar Park. The major attraction however are the Kurinji flowers in the park, that bloom once in 12 years. Nestled on the north eastern corner of the hill station, this park is around 3 km away from the Kodaikanal Bus Stand.
This park is en-route to Kurunji Temple, which is another popular place to visit in Kodaikanal. It's a good stop for a quick relaxation or to spend some time capturing the sheer beauty of nature. A minimal fee of Rs.25 is charged for the camera. It can be visited between 9 in the morning to 5 in the evening.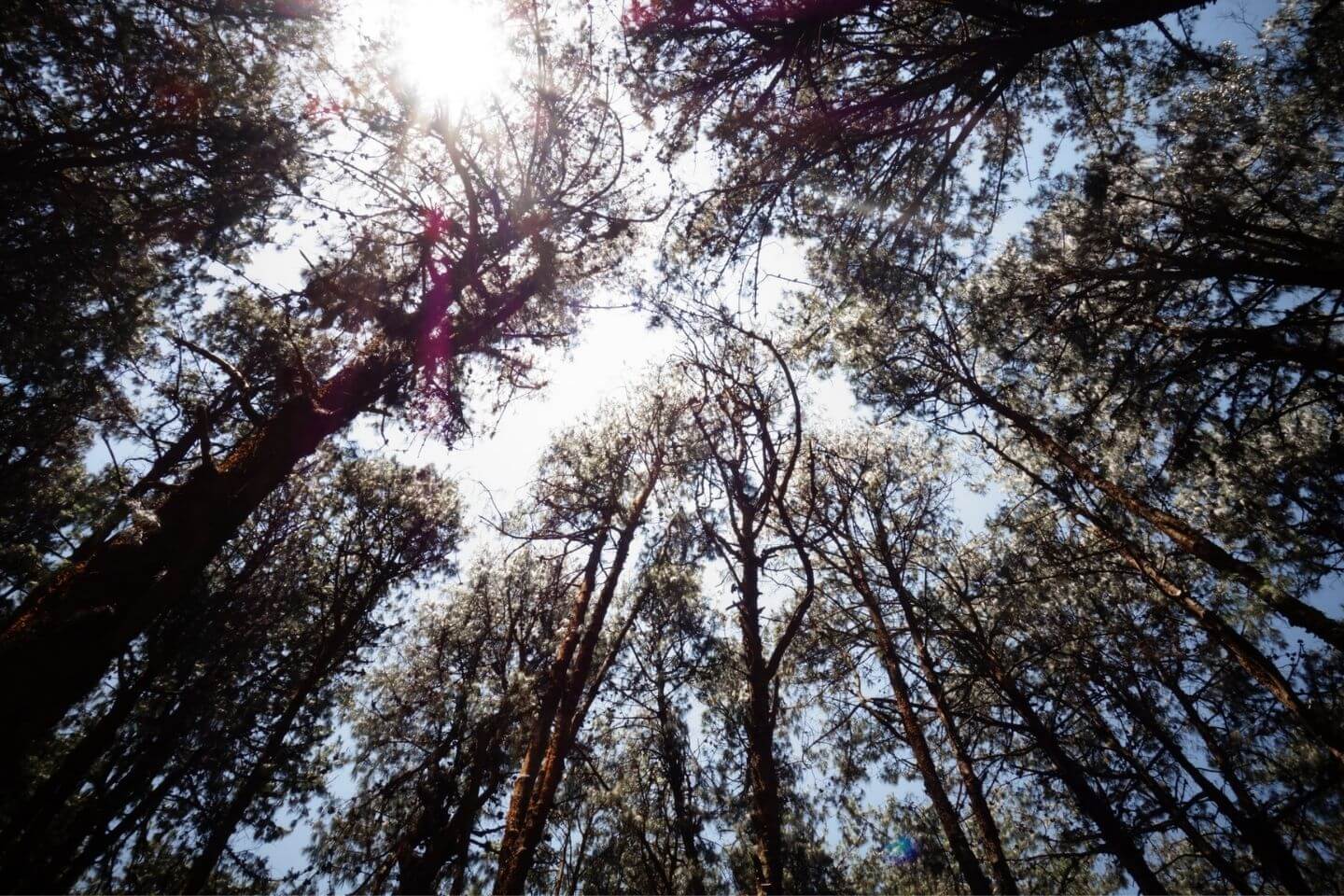 (courtesy: roy)
Undeniable one of the most popular sightseeing places in Kodaikanal, Pine Forest attracts enthral visitors. This forest was initially cultivated by Mr. Bryant in 1906. The view of tall Pine trees, creating a thick yet scattered blanket which seems to be touching the clouds, make it an ideal place for capturing pictures and videos.
One can either spend time exploring this dense foliage or can sit and relax amid the pine trees and rich fauna. It is also popular for horse riding and walking. Situated on the southwestern corner of the hill station, it can be easily accessed by road.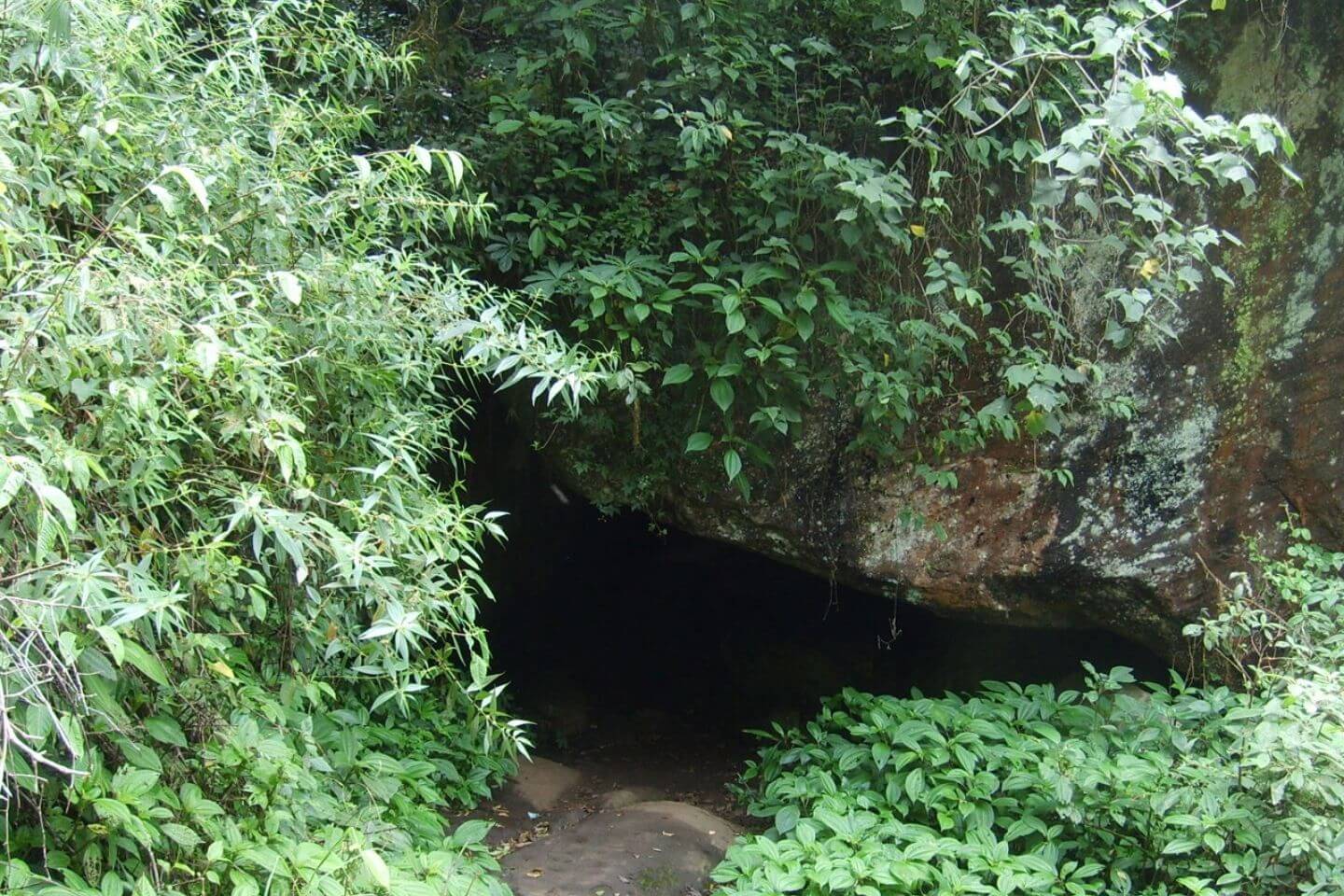 (courtesy: sureshkanna)
Located in Kukkal, it is 40 km away from the hill station of Kodaikanal. These caves are made from the slabs of different metamorphic rocks such as granulite and charconite. Kukkal caves used to be the earliest residing place for Palaiyar tribes and is now a popular trekking destination for adventure seekers.
One can see paintings by the tribe on the walls of the temple here. Standing on one of the highest altitudes of the hill station, it presents a much cooler atmosphere thought-out the year. These caves can be visited from 10 AM to 5 PM. Visitors can reach the caves by reaching Poombaraj by a bus or cab and then walking on foot till the caves.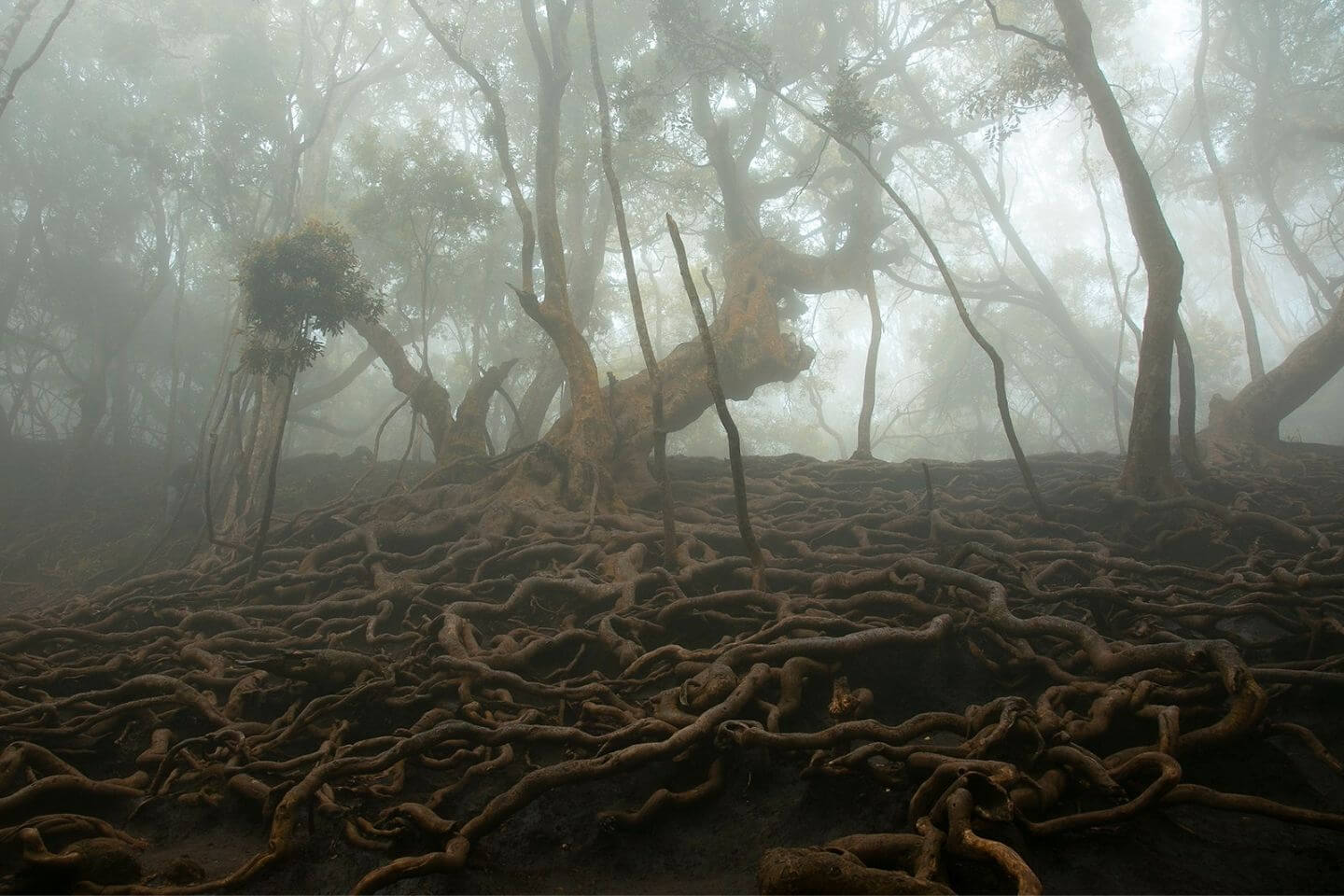 (courtesy: naveenrajgowthaman)
Named after a popular actor Kamal Hassan's Tamil movie Guna, which was shot here, these caves are also known as Devil's Kitchen. Located on the Pillar Rocks Road, Guna Caves are an interesting place to visit in Kodaikanal. These Caves are primarily three huge rock pillars which stand attached to each other and are surrounded by the Shola trees.
Found in the year 1821 and an ideal place for those looking for adventure, these caves can now be seen from Pine forest. The entry inside the caves have been closed for many years now, owing to many suicide cases atGuna Caves the site.
Museums and Observatory in Kodaikanal
If you are travelling with your children or family, or if in case you are interested in further enriching your Kodaikanal tour then plan a visit to these museums and observatories. A visit to these places will allow you to get a deeper understanding of nature, astrophysics as well as inform you about history and culture.

It was founded in 1895 and presents an excellent opportunity to have a close look at various artefacts of ancient Palaiyars tribes. Along with this, you also have an exceptional collection of more than 300 exotic orchid species, and almost 500 species of animals, birds and insects. This museum presents an opportunity to explore and understand varied handicrafts, fauna and flora.
One can visit the museum with their children as it creates an environment to learn about plants, taxidermy and anthropology. Located at a distance of about 6 km from Kodaikanal Lake, it can be visited on all days of the week except Thursdays, between 10 AM to 11.30 AM and 3 PM to 5 PM.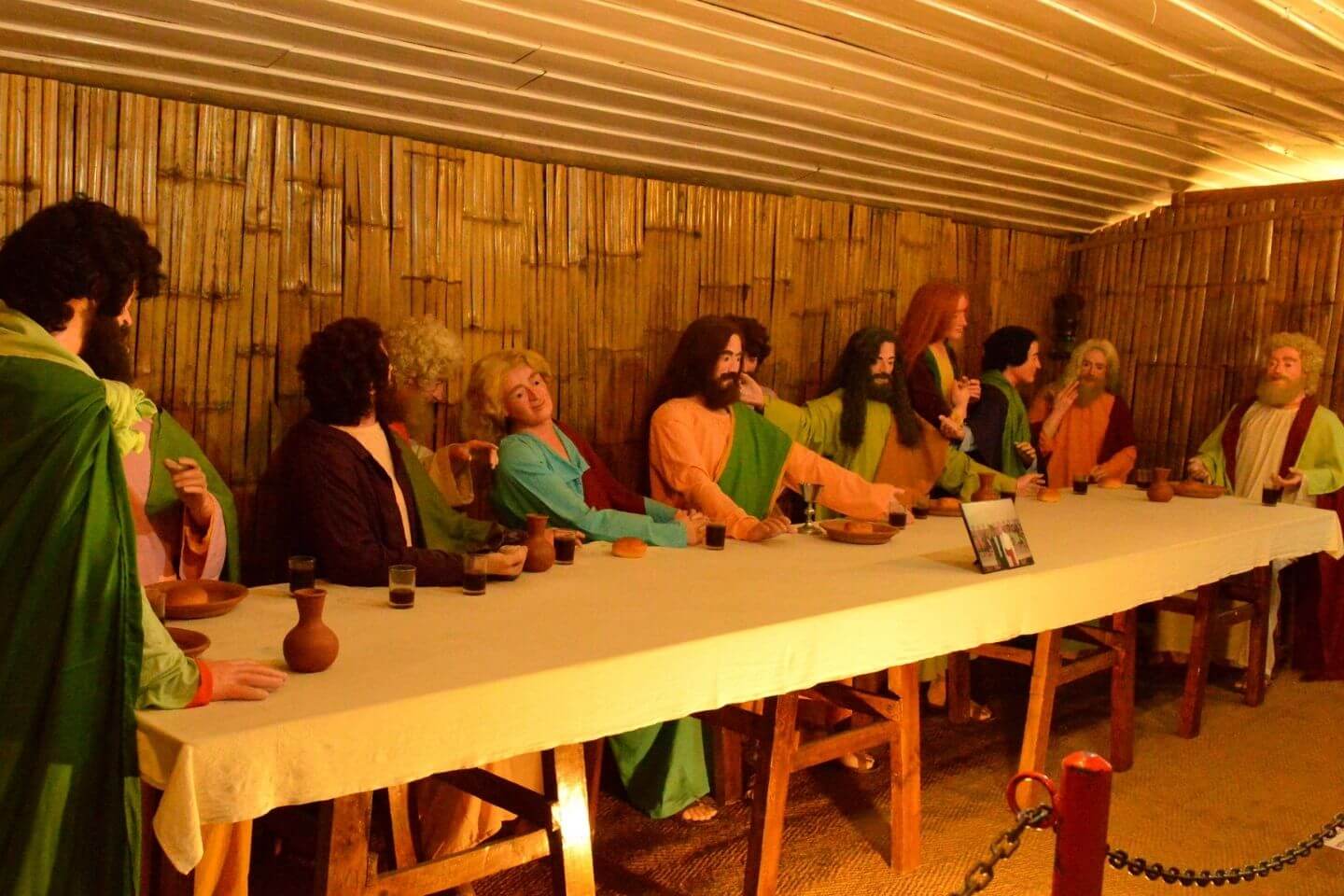 (courtesy: ilakkiarajs)
Wax Museum of Kodaikanal presents an impressive collection of wax statues of International and popular national personalities. Ranging from Indian saints like Adi Shankara, Sai Baba, to leaders like Mahatma Gandhi and even statues of the infamous sandalwood smuggler, Veerappan, the collection here is worth seeing.
Religious settings like Lord Krishna with gopikas, Last Supper, Jesus, as well as folk dances are also depicted with intricate wax work here. Opening timings of the Wax Museum are 10 AM to 5.30 PM. Easily accessible, it is situated on the Gold Links Road and is near to the Green Valley.

Situated at the tip of Palani Hills, Kodaikanal Solar Observatory was built in the year of 1899. Also known as Astrophysical Observatory, it is run by Indian Institute of Astrophysics. Mesmerising surroundings, impressive collection of solar data and an extensive range of equipment make this solar observatory a place worth visiting in Kodaikanal.
High frequency Doppler, Watson magnetometer, solar tunnel telescope and broadband seismograph are a few of the equipment that are being used here. It is one of the most renowned observatories in the country. One of its major achievements is the Evershed effect which was discovered in 1909 owing to the data collected here.
Religious Sites in Kodaikanal
The hill station of Kodaikanal not only offers lakes and viewpoints but also many religious sites, each presenting a mesmerising view, beautiful architecture in addition to the religious importance.

The temple is dedicated to the Lord Murugan who is referred as 'God of hill'. Just 3 km from the lake, it is very famous for its Kurinji flower which blossoms in the area only once every 12 years. In addition to admiring its marvellous architecture, you can also have an amazing view of the Palani and Vaigai dam from this temple.
Apart from this temple, there are many other religious places as well such as the Mariamman Temple, Vinayagar Temple, Murugan Temple, two mosques at Ellis Villa and Munjikal, sacred Heart Church and many more.
(courtesy: umakantmishra)
More than 130 years old, La Saleth Church is one of the prominent places to see in Kodaikanal. Not only for its religious significance, this church can also be visited for its historical building, which impresses visitors with a beautiful architecture.
The structure is a blend of French and Tamil architecture. It is decorated with graceful statues of Our Lady of La Salette above the altar as well as the statue of St. Joseph. Inside of the church you will find statues of Our Lady of La Salette and St. Joseph.
Situated on a cliff and surrounded with striking greenery, this oldest Catholic Church in Kodaikanal, is indeed a sight to behold. An annual nine days festival is organised at the church every year in the month of August. This festival is conducted in the honour of Mother May.
One of the most attractive features of the church are its decorative windows which were painted by Madame Coile, a French noblewoman.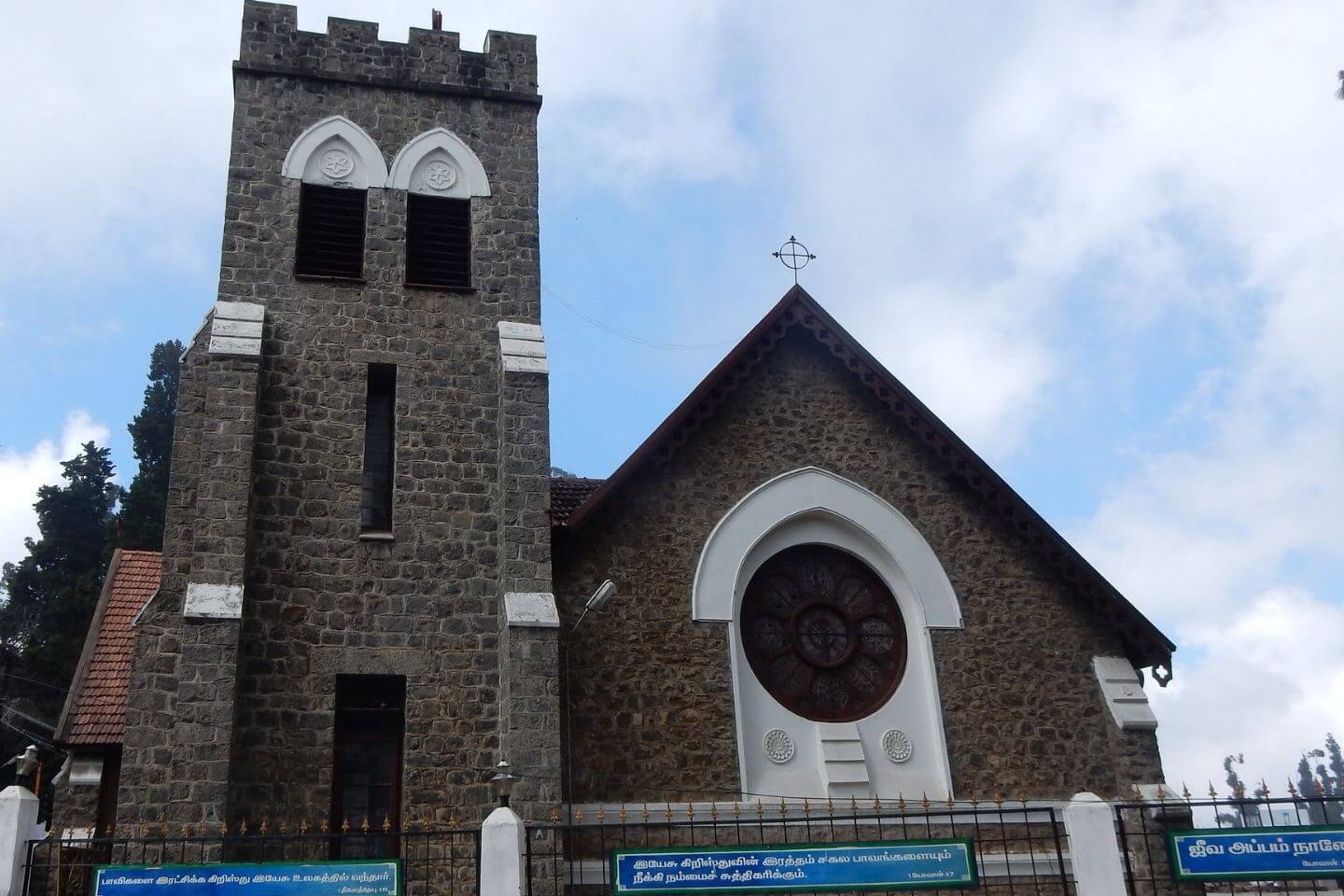 (courtesy: johnsteedman)
Constructed in the year of 1895, Christ the King Church is the one of the oldest Protestant churches in Kodaikanal. Presenting a traditional gothic architecture in granite stones, this church is worth exploring even if you are not religiously inclined. Interiors of the church are also equally captivating with wooden benches, and painted glass windows.
When visiting this church you can plan a visit to Kodaikanal Lake, Coaker's Walk and also Bryant Park, as all these sightseeing places are located in its close proximity. It is located on the Club Road and is easily accessible.

Located near Kodai International School, Lutheran Church is another place to visit if you have enough time during your Kodaikanal tour. It is situated quite near to the Christ The King Church. It was constructed in the year of 1932 in a gothic architectural style.
Made up of granite stone, this church presents an attractive structure and boasts of artistically stained window glass and paintings and murals. The art within the church showcases various stages from Jesus Christ life.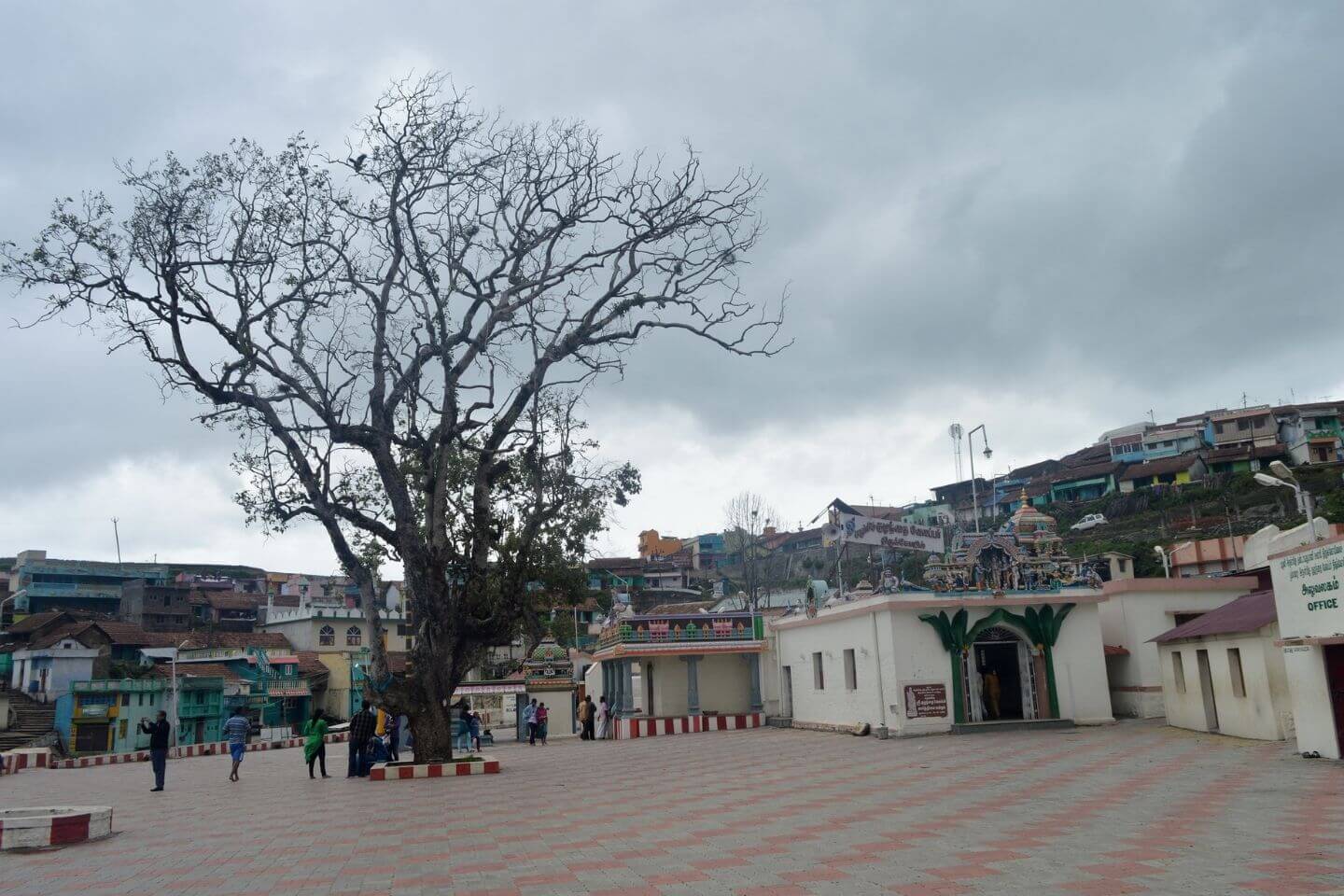 (courtesy: prabakaranvinayagam)
Dedicated to Lord Kartikeya, the Subrahmanya Temple is a popular religious site that receives devotees all around the year. Located at a distance of 65 km from the centre of Kodaikanal, this temple can be visited by those looking for an adventure. It stands at a height of 135 meters presenting a breathtaking view which can be seen after steep climbing of around 600 steps.
Other sightseeing Places in Kodaikanal
Kodaikanal boasts of many places to visit with their envy-inducing beauty. Hence if you have some time at your disposal or if you are on an extended Kodaikanal tour then don't miss visiting these tourist attractions.

Situated 18 km away from Berijam Lake, and around 8 km from the Kodaikanal lake, Dolmen Circle is hard to miss when in Kodaikanal. Holding a special place among anthropologists, this place has prehistoric remains that date back to 5000 BC. There are burial as well as dwelling remains such as urns, models of dolmens, belonging to the Stone Age and Iron Age.
In addition to this, even copper and brass utensils and ornaments were also found. It is believed that this place was used for storing valuables as well as to hide by the prehistoric human beings, while Kistavens were mostly used as burial grounds.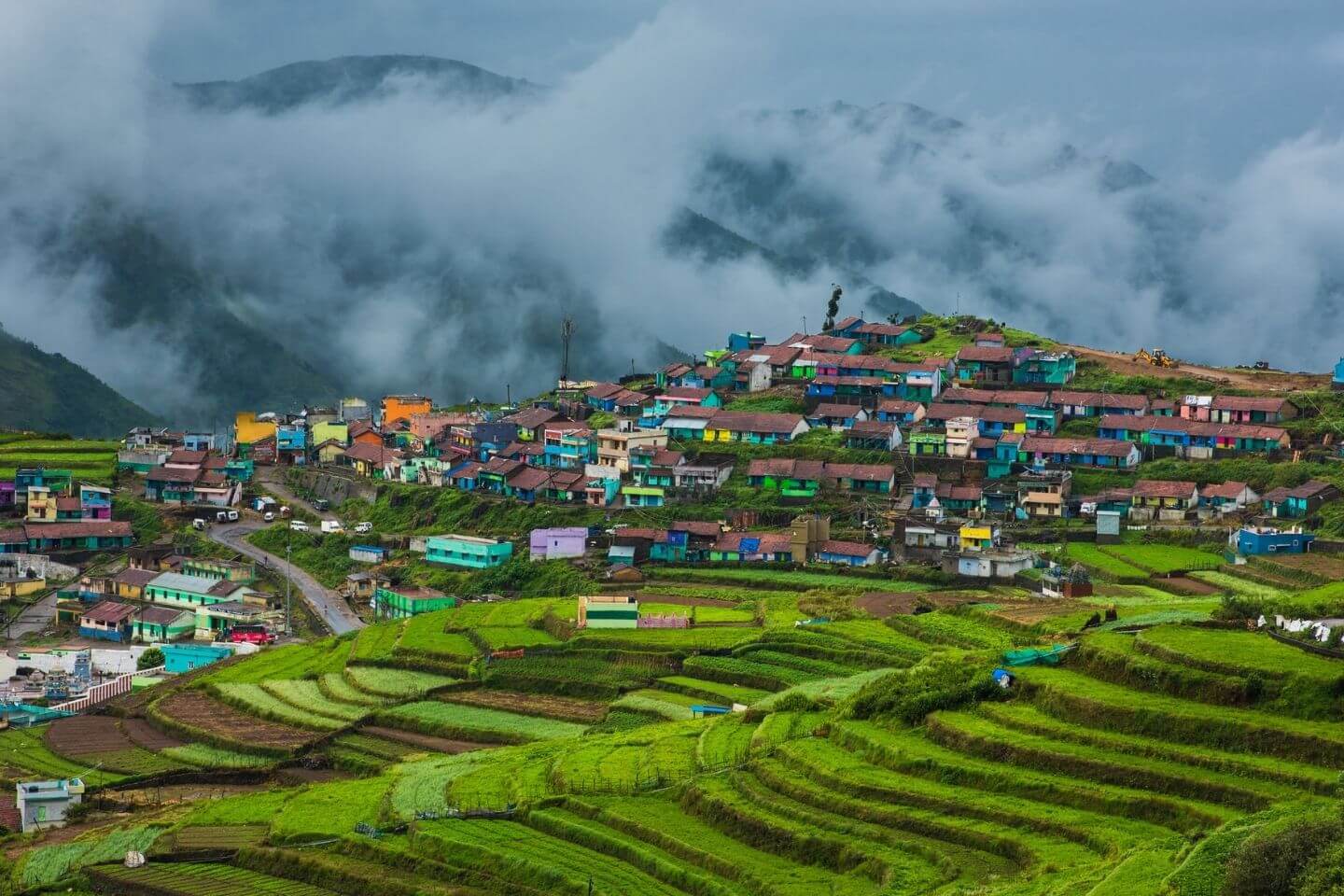 (courtesy: mohang)
Located at a distance of 18 Km from Kodaikanal, Poomabari is another place to visit. This small village is nestled amid the exuberant greenery of Palani Hills at a height of more than 1400 meters. It is home of the Kuzhanthai Velappar Temple. More than 3000 years old, this temple attracts devotees and history enthusiasts alike. Poombari is also famous for its garlic cultivation.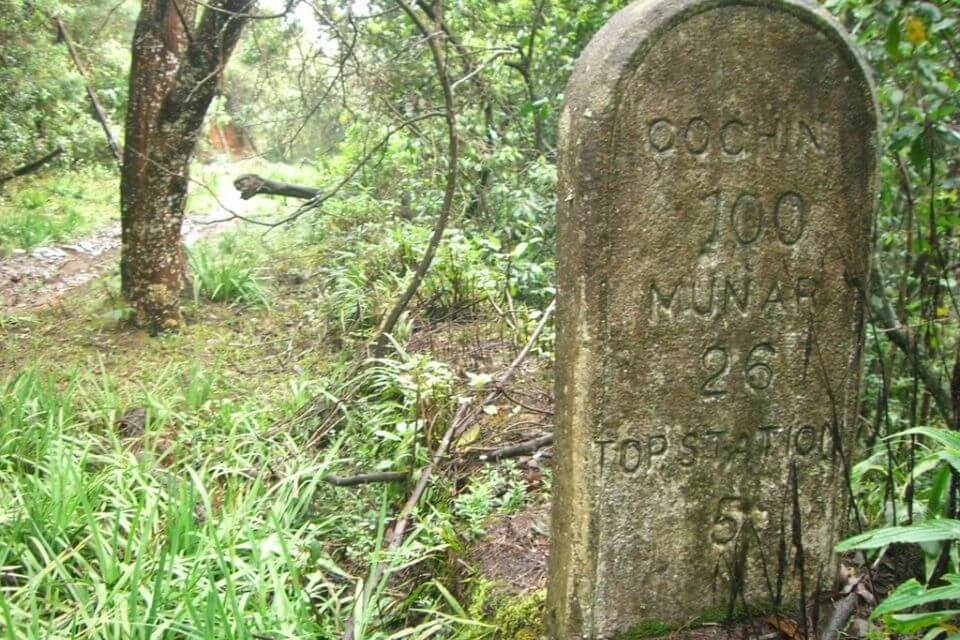 (courtesy: tamilnadufavtourism)
If you are seeking an entirely adventurous experience then plan a visit to the 80 Mile Round. It is a trekking route offering twists and turns that will offer many picturesque views and an exciting experience. This trail begins at Berijam Lake, which is another popular tourist attraction and ends at Poombarai.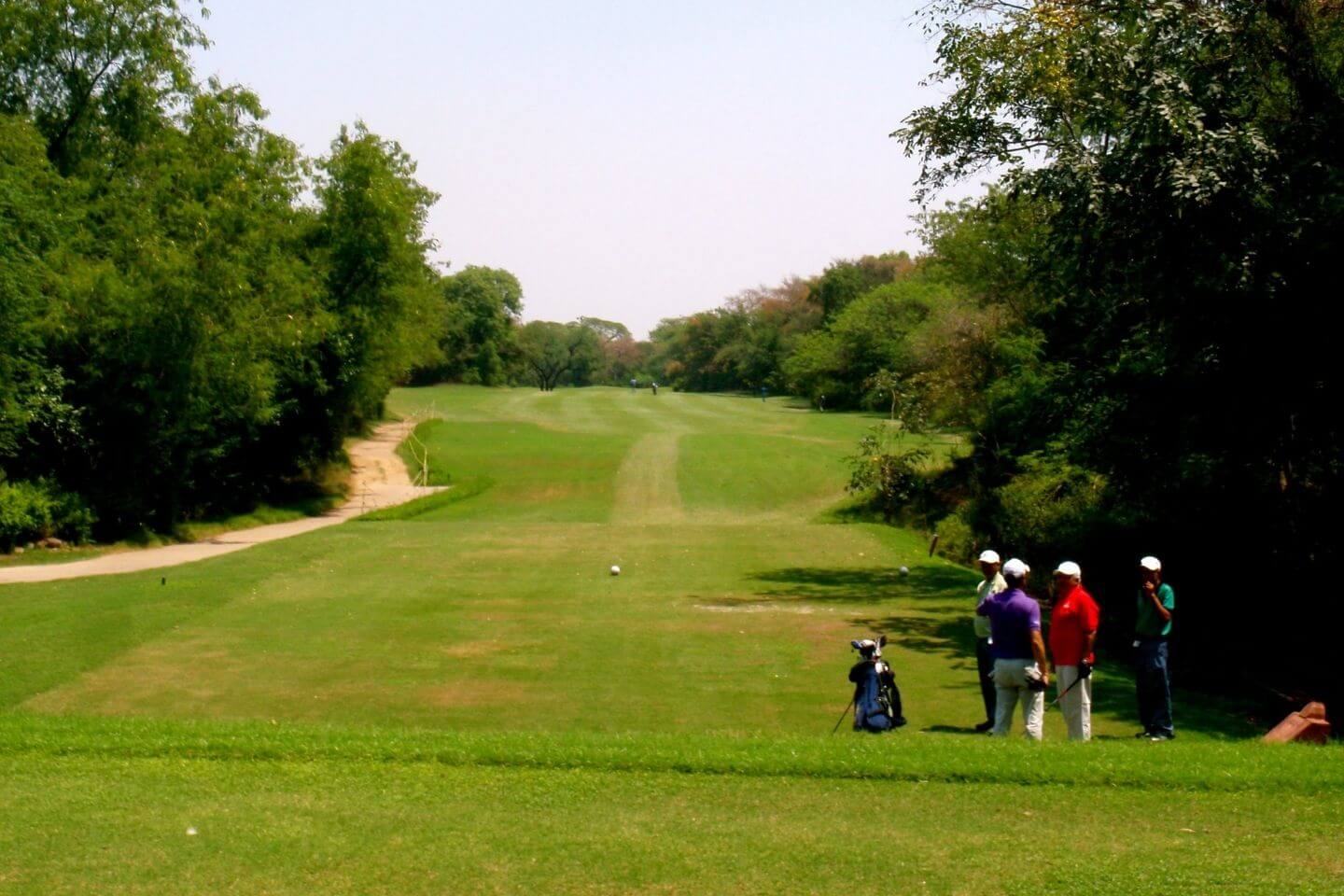 (courtesy: rjinnkodaikanal)
More than 100 years old, Golf Club of Kodaikanal was established in 1895. Located in Pambarpuram Village it is around 6 km away from the hill station's centre. It was conceptualised by 12 British golfers. Boasting of an admirable beauty, this golf is surrounded with towering mountains and a rich flora.
Enjoying a comfortable closeness to Pillar Rocks and Green Valley View, Kodaikanal Golf Club is a private membership club with around 600 members. It also offers the facility of accommodation.
Shopping in Kodaikanal
No holiday is complete without taking back a few souvenirs. Buying during tour is a way to preserve the memories of the destination for yourself and sharing the experience with your loved ones back at home.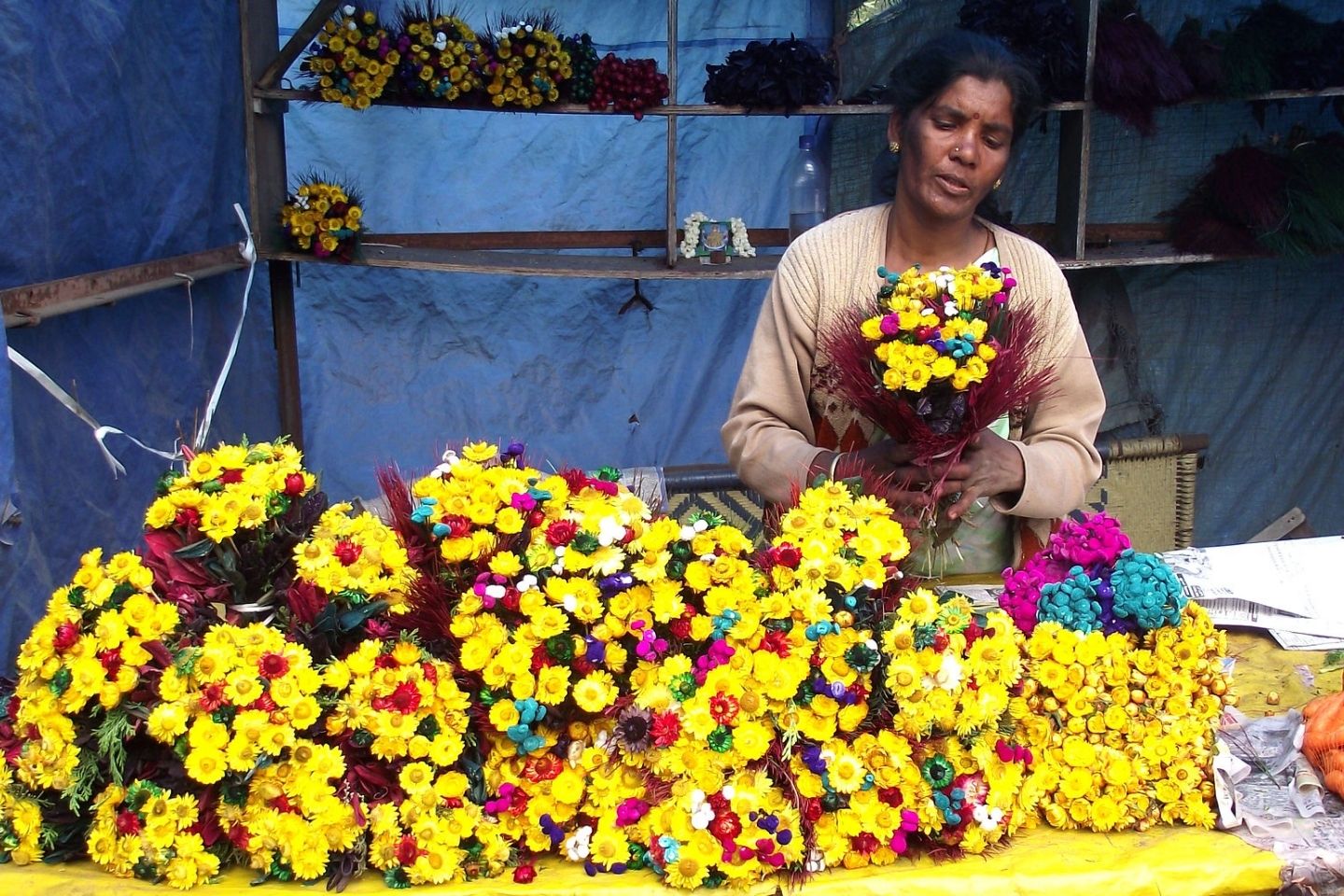 (courtesy: sensd)
Anna Salai Market is one of the most popular markets of Kodaikanal. It offers shoppers with plenty of options to choose from. Situated on the Bazaar Road, it is a place where you will find something for everyone.
Items varying from handicrafts, jewellery, homemade chocolates to brass wares and products made of leather and wood, you will find all kinds of shops in this market. A wide variety of oils and spices can also be found at reasonable rates, provided to use your bargaining skills well. Baked items are also worth trying here in Kodaikanal.
---
You can visit the hill station at any time of the year as the temperature is always moderate. However, the best time to visit Kodaikanal is in the months of April to June and September to October. Reaching Kodaikanal is also an easy task as it is well connected through various modes of transportation such as air, railways and roads.